Down to earth: Our ethos and our collection.
Our mother/daughter-run boutique takes its
inspiration from the rugged landscapes of Ireland and Scandinavia, to bring our
customers a collection of home accessories that celebrate earthy, natural beauty
without compromising quality and sophistication. Our high street store offers
a relaxed, fun and flexible approach to boutique shopping.
Here on the web-shop, you can find a small selection of our carefully curated products, but please get in touch if you are seeking something specific! 
You will find a wider selection of products including furniture, rugs and gifts on the Baile Home social media pages.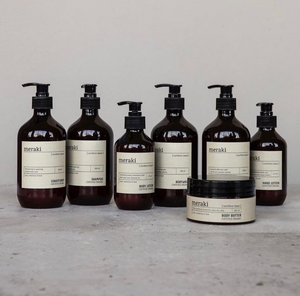 Self Care Favourites
The full Meraki range in stock now; handsoap, bodywash, lotions, cream, multi use oil, shampoo and conditioner.

Chemical-free, organic and totally free from parabens and artificial colouring and scents 🌿
SHOP NOW